Existing Customer
Account Activation
As we kick off all the upgrades we have planned for Dietonsale.com, we went ahead and upgraded many of the platforms on the backend that the website uses to run smoothly and quickly. During that transition we moved all your past order data and address data. One of the things that we didn't move over to protect the integrity and security of your account is any passwords and/or payment information. This guide below will hopefully help you reset your password quickly and efficiently but if you have any difficulty, please know our dedicated support staff is here to help you!
Click on the "My account" tab on the top of the page then select "Create your account". This step does seem a little off since you already have an account but this is the best way. (Trust us haha)

Once you have clicked the "Create your account" link, fill out the fields making sure to use the same email account you have previously used with dietonsale.com. This will bring up a screen letting you know that you already have an account and it will email you a verification email.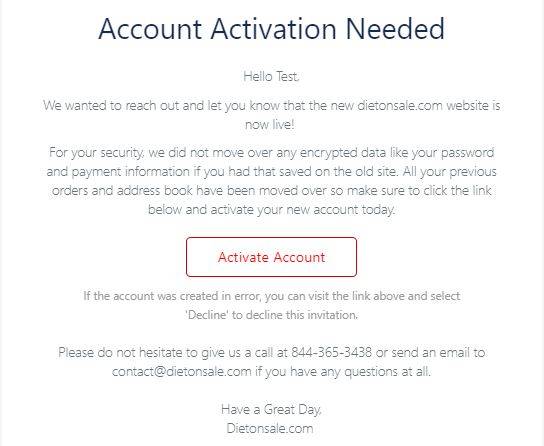 Once you receive this email, you can go ahead and click on the "Activate Account" link and create a new password. After that you should be set! If you have any additional questions or concerns, feel free to let us know on the chat box on the bottom right of the screen and we will manually send your activation email and touch base with you.