Existing Customer
Account Activation
Has it been a while since you last accessed your account? Well we have moved to a new platform and need you to reset your password to unlock all your previous order history. If you have any issues with the process, please do not hesitate to reach out to us by clicking the chat/email tab on the bottom right or calling our customer service department at 844-365-DIET during our regular business hours.
Click on the "My account" tab on the top of the page then select "Create your account". This step does seem a little off since you already have an account but this is the best way. (Trust us haha)

Once you have clicked the "Create your account" link, fill out the fields making sure to use the same email account you have previously used with dietonsale.com. This will bring up a screen letting you know that you already have an account and it will email you a verification email.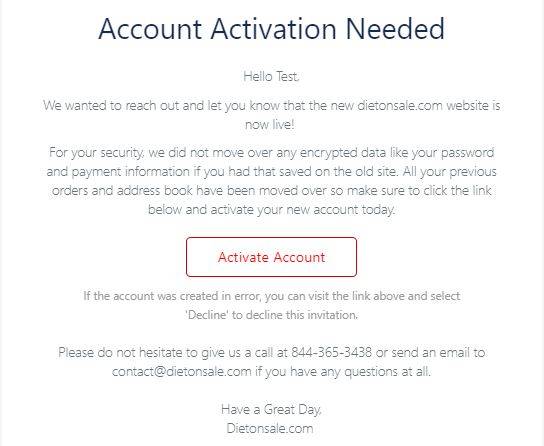 Once you receive this email, you can go ahead and click on the "Activate Account" link and create a new password. After that you should be set! If you have any additional questions or concerns, feel free to let us know on the chat box on the bottom right of the screen and we will manually send your activation email and touch base with you.